You can only get
MIRAI method

at Shinwa Clinic !
We offer 5,000 grafts of high density hair transplantation.
Only our team of doctors at Shinwa Clinic can deliver the
High Speed Mega-session
With the normal hair transplant procedure, 1,600 grafts (approximately 4,000 hairs) are performed in 1session.
We, at Shinwa Clinic, our highly trained team of doctors can transplant 5,000 grafts (approximatley 13,000 hairs) which is three times the normal grafts with a single session.
us to transplant the hair to your entire head. Although we can spread the treatments over several sessions, in order to minimize any psychological burden of our patients, we are didicated to make it a single session if possible.
Natural looking hair.....
World's smallest Punch Blade
Natural looking hair via 0.63 mm Micro Punch instrument
MIRAI method utilizes the world's smallest micro punch instrument that measures only 0.63mm in diameter.
This is the reason why we can deliver you with more natural looking hair.
MIRAI method

and its technological advantage


More than 4,600 patients


Team of Hair Transplant Specialists

At Shinwa Clinic, we are team of doctors who specializes in bringing you the best in hair restoration. Dr. Onda heads the team that have operated on more than 4,600 satisfied patients.


Over 13,000 hair with a single session


1/4th of surgey time compared to Western world

Team of highly trained doctors, nurses, and staff is the key to minimizing surgery time.
We are able to perform what takes Western Clinic 2 full days to operate down to ¼ of the time by transplanting 5,000 grafts (approximately, 13,000 hairs).
Minimizing operating time leads to minimizing post operative effects to our patients.
We are the only clinic in Japan that can offer this service of High Speed Mega-session.

Advanced Technology with over 95% survival graft rate and Natural results
At Shinwa Clinic, we can deliver our patients with over 95% survival graft rate and natural results through MIRAI method which utilizes High Speed Mega-session with the use of 0.63mm micro punch blade.
Our advanced technology allows us to transplant up to 80 to 100 grafts per 1 square centimeter (compared to only 20 to 35 grafts per 1cm2) which results in fuller, thicker hair.

Minimizing Surgical time reduces physical stress
Extended surgical procedures places physical stress on the patient.
MIRAI method without the use of ordinary scalpel reduces the post operative pain and minimize the downtime post operatively.
The use of High speed Mega-session also reduces the surgical time. A highly trained anesthesiologist is provide for your comfort.
MIRAI Method
Harvesting of Grafts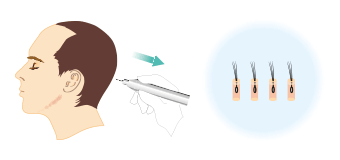 [MIRAI method]
A highly skilled physician will carefully choose the hair follicles suitable for transplant one by one. The use of 0.63mm Micro Punch Blade will ensure not to damage the surrounding hair and only harvest those grafts necessary for transplant. We use the latest in hand drill which maximize the success of hair transplantation.
---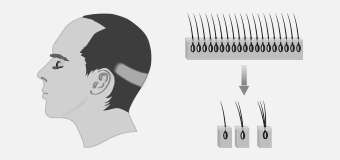 [FUT method]
In the case of FUT method, the hair is removed in a single, long strip from the back of the head and then dissected into individual follicles often leaving behind several unused follicles on the strip. There are more associated post operative pain with the removable of the strip and scarring due to this procedure.
---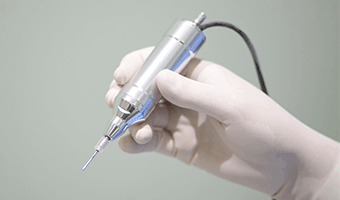 * Latest Hand drill
Compared to previous hand drills, the latest model offers less vibration with its increased torque.
Decreased vibration aids in stabilizing the punch blade for harvesting and with its increased torque, it allows for more precise dissection. All of which helps in a higher survival rate for the stocks. Hand drill also weighs less for better control and reducing fatique for the doctors using the drill.
Recipient Sites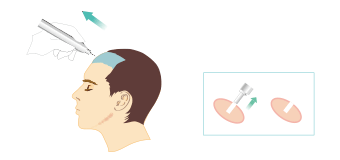 [MIRAI method]
With the use of the 0.63mm punch blade, recipient sites are made individually by a highly skilled physician.
These recipient sites are made smaller than the harvested grafts to ensure adequate pressure upon implantation.
The creation of the recipient sites determines much of the aesthetic look of the transplant -- it sets the angle at which the new hair grows and determines the distribution and density of the grafts. Recipient site creation is a critical aspect of hair restoration surgery that requires considerable experience and surgical skill and a keen aesthetic sense.
---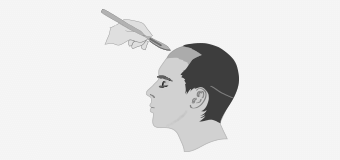 [FUT method]
The creation of the recipient sites are made by scalpel which is much more difficult and often leads to an unnatural results. Creating a much uniform recipient sites are also difficult using a scalpel.
Graft Insertion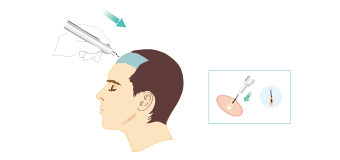 [MIRAI method]
In order not to damage the harvested grafts, the Graft Setter is used to insert the grafts into the recipient sites.
Reduction in surgical time leads to a higher survival rate of transplanted grafts.
---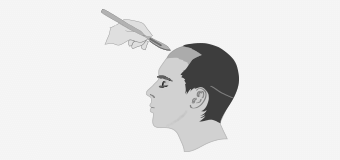 [FUT method]
The incision angles created by the use of scalpel often leads to diminished survival rate of newly inserted grafts. Uneven pressure created by the use of scalpel may also hinder the result.
Hair Transplant Cost
| | |
| --- | --- |
| Basic Cost | ¥200,000 |
| Transplant Cost | ¥900 / graft follicles |
Treatment Flow
01. Scheduling a Consult
To schedule an in-person consultation, you may either fill out out the Free Consultation form from our website or call us.
For those who live at a distance from our facilities, you may qualify for our program which subsidizes partial fee for your transportation & accommodation. Please ask our staff.
▼
02. Consultation & Counseling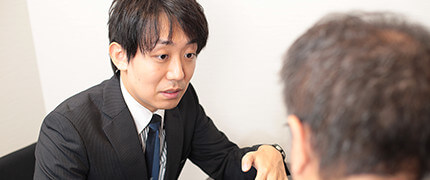 Your consultation will be with one of our physicians followed by one of our consultants. They will listen to your concerns regarding your hair loss, take a careful history, and ask you about your expectations for hair restoration and other pertinent information. You will have plenty of opportunity in the consultation to ask any questions that you may have about your hair loss and its treatment.
▼
03. The Procedure
When you arrive for your hair transplant, the staff begins by going over the activities for the day.
The physician reviews the goals that have been established and answers any questions that you might have.
Sedatives may be given to relax you before the start of the hair restoration procedure.
▼
04. At the End of the Procedure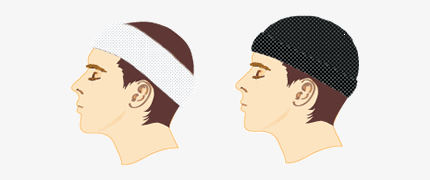 The post-op instructions will be explained.
A tennis bandage is placed around the head to cover the donor area and a bandana is worn home.
▼
05. Next day
On your post-op visit the following day, we will shampoo your hair.
We are a sole provider with this service. (as of 2014)
▼
06. Post-op care
It is important that patients follow post-operative instructions to ensure optimal healing and growth of the transplant.
For several weeks post-op you can expect that some transplanted hair will begin to shed.
This is a normal process and should not be a concern. In about 6 to 8 months, your hair will be grown for grooming.
Throughout the procedure and after the procedure, Shinwa Clinic's highly-trained staff will answer your questions and take care to help you feel comfortable.